Silicon Stacking Balancing Animals on Wooden Moon Toy
Tax included.
Building a brighter future, one balanced stack at a time. Let your little ones soar with our silicone stacking animals on the wooden moon toy - perfect for early learning development and refining fine motor skills.

Made from high-quality silicone animal stacking toys and a sturdy wooden moon base, this toy is perfect for early learning development. Not only does it provide endless hours of fun, but it also helps develop fine motor skills as your child learns to stack and balance the animals on top of each other. With its unique design, this toy will capture your child's imagination and encourage them to explore new ways of playing. So why wait? Get yours today and watch your child's creativity soar!

Enhance Early Learning Development: The Silicon Stacking Balancing Animals on Wooden Moon Children Toy is perfect for kids to learn about balance, symmetry and coordination
Develop Fine Motor Skills: Playing with this toy helps in developing fine motor skills which are essential for children's growth and development
Safe and Durable: Made from high quality silicone material, these animal stacking toys are safe, durable and long lasting
Fun filled Playtime: This playful toy provides hours of fun filled playtime while promoting cognitive development in young children




Our silicone animal stacking toys not only make a super cute nursery or playroom décor, but these seemingly simple toys also pack a big punch when it comes to early learning development. Stacking and building promote fine and gross motor skills as well as eye-hand coordination. In addition, they help a baby and toddler to learn shapes and effects when he knocks down his structures!

These silicone pieces are made from top food grade, no odour, soft and smooth textured silicone. They are Free from BPA, Phthalates, Lead, PVC, and other nasties! They are super safe, even for the infants.

They are designed with great attention to detail. Being light weight, they are easy to store and travel with. All the pieces and base are even dishwasher friendly.  

Material: Food grade silicone

Product size: Moon: 16*9.1cm,Whale:6.8*4cm,Elephant:5.2*4.1cm,Bear:6.3*4cm,Rabbit:5.9*5cm

Weight: 193.2g (5pc) or 263.3g (9pc)

Include:

🎈1 high quality wooden crescent moon

🎈5 pieces (Moon x1, Whale x1, Elephant x1, Bear x1 , Rabbit x1)or

9 pieces (Moon * 1, Whale x2, Elephant x2, Bear x2, Rabbit x2 )of food grade silicone animal pieces in soft muted colours




Learning balance helps children develop better concentration needed for sitting and paying attention in class. Balancing uses mechanical principles. While playing balancing games, children discover concepts like gravity, action & reaction, equilibrium & counterbalance. Fine motor skills, coordination and balance are essential for child development. The development of these skills can help greatly with day-to-day activities.

✅ Summary of why one should include balancing toys for their child:-




Improved body awareness and fine motor skills such as hand eye body coordination.
Development of concentration and endurance
Cognitive development

✅ We have selected these balancing toys that are made only from safe & non toxic materials for your children. Rest assured when your kids are playing with them!
View full details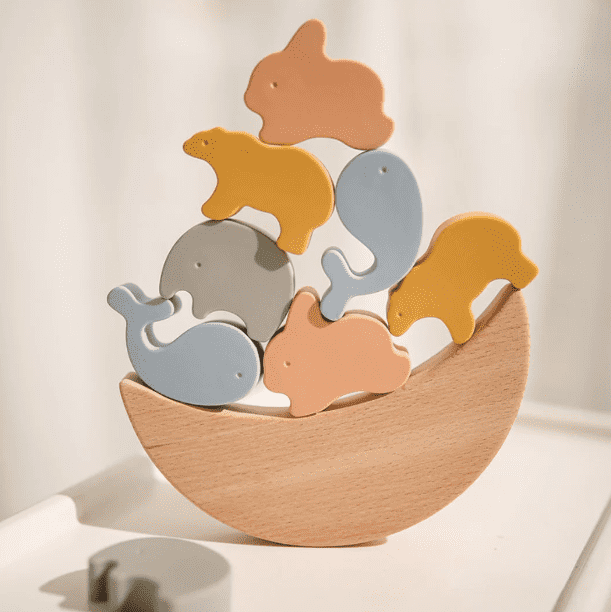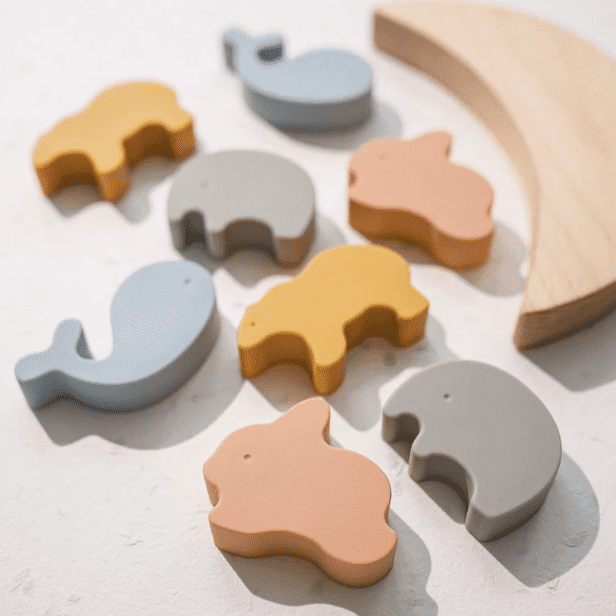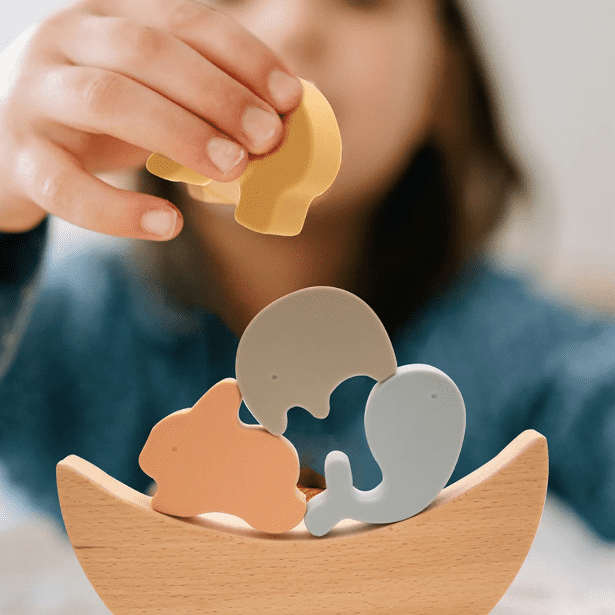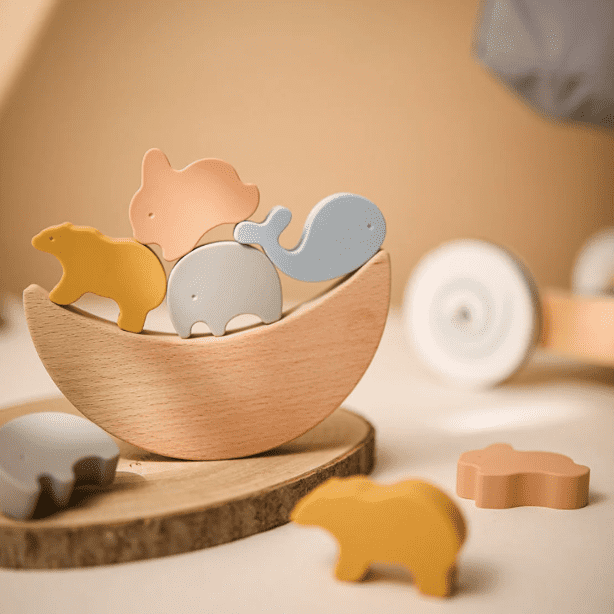 Silicon Stacking Balancing Animals on Wooden Moon Toy